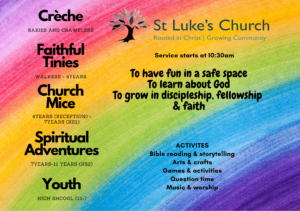 To have fun in a safe space. To learn about God.
To grow in discipleship, fellowship & faith
We have lots of different activities for our children and youth her at St Luke's. We provided:
Bible reading & storytelling
Arts & Crats
Games & activities
Question time
Music & worship
The groups we run:
Creche for our babies and crawlers
Faithful Tinies for Walkers – 4 year old's
Church Mice for 4 – 7 year old's (KS1: Reception – Year 2)
Spiritual Adventures for 7 – 11 year old's (KS2: Year 3 – Year 6)
Youth for those in High school
Once a month (the second Sunday of the month), we have our All Age service. At this service we bring the whole church family together to worship.