The extension in now finished at the west end of church. This has create more space and community rooms, which we want to fill with new projects throughout the week. These vibrant community projects will range from youth programmes to work with the elderly.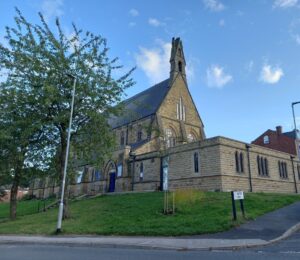 Your Community Hub
We love our community and so we can continue to serve and increase our capacity to respond to these needs we are in the process of building a community hub. Our existing church building and facilities have been refurbished and extended to provide increased space and resources. The are fully accessible, have a well equipped kitchen, new meeting rooms to run projects, an IT suite and office space.
We are  able to host many more community events, drop-ins and advice services, provide activities including dance and arts opportunities for children and young people and events for the elderly.   We will work to empower local people with various learning volunteering and upskilling opportunities – bringing communities together.
Building commenced in July 2019 and was finished in March 2020.  This is enabling to to bring significant positive impact and growth.
We recognise that the hub would not have been possible without the backing of numerous supporters. We are extremely grateful for generous financial support received from The Community Fund, LCES, All Churches Trust, Bernard Sunley, National Churches Trust, and Cloth Workers, as well as many local people and other anonymous donors – Sincerest thanks for enabling us to reach, serve and change the lives of the amazing people surrounding us.
Our Wonderful Sponsors
Benefactors Sign - Updated 3

If you feel that the new St Luke's space would be great for you/your community group to meet and grow, let us know! Please contact the building manger by email – buildingmanager@stlukesholbeck.org.uk